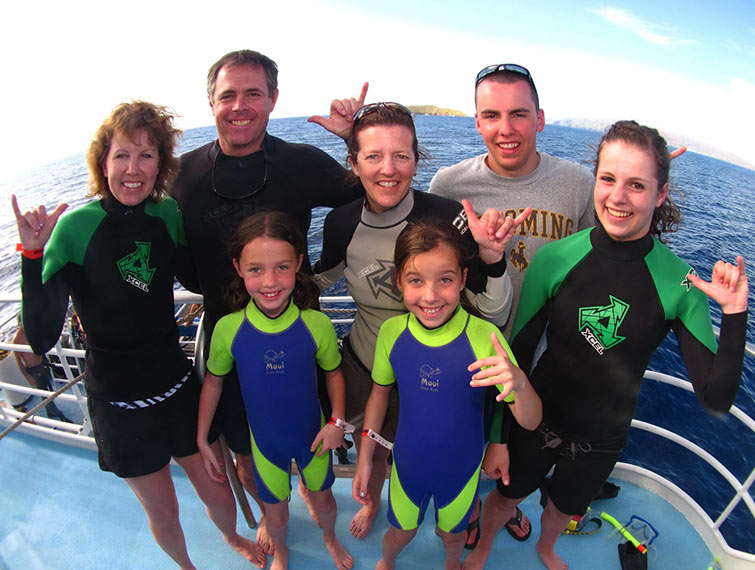 LIFETIME ADVENTURE
Reviews from you
Below are reviews received from our guests since January 2011. We are proud that we've not received a single bad review, which is a compelling reason to call us first before considering any other boat trip on Maui. We will exceed your expectations.
More reviews
Reviewed

December 16, 2019
Whale Watching Private Charter
We were in Maui celebrating a wedding and rented this charter to go whale watching with close family and friends. Captain CJ made sure he tailored the day for exactly what we wanted, to see whales. We actually saw a bunch of whales thanks to Captain CJ who made it his mission for us to see these amazing animals. From the second we stepped on board to the amazing crew made sure we always had what we wanted whether it was a drink refill, food or just an exceptional experience. Nate was great and was so attentive to everyone on the charter, which was not easy with our large group. I highly recommend to the comfort of the boat but the amazing Captain and Crew made this an exceptional experience we will never forget!
More reviews
Reviewed

February 25, 2018
Leilani private cruise
We had an amazing family adventure aboard the Leilani. We saw whales upclose just outside the harbor within minutes of the cruise. The crew was informative and answered all our questions. We snorkeled over at Molokini and continued whale watching. We were verasatile and trusted the crew to know where to go. We got to experience a very rare whale shark sighting. The food was plentiful- with continental breakfast and later a bbq lunch. We highly recommend the Leilani Private cruise. We had 24 of us and there was just enough room not to feel crowded. We had 13 children ages 4-14 and all of us had a blast.
Reviewed

July 19, 2019
Overall, just perfect!
We just got back from our snorkel trip on the Leilani. It was a great experience. We were lucky with the winds being slightly calmer and made it to Molokini. Snorkeling was awesome. Turtle Town was fun too. They served a continental breakfast with fruit and muffins. Lunch was pulled pork and hotdogs with coleslaw and pasta salad, and yes, a tasty cookie. The crew was genuine, entertaining and made sure we were safe in the water. Smaller boat, but not crowded. Overall, just perfect!
Reviewed

January 24, 2020
5 stars!
We went out today with Captain CJ, Nate, and Lindsey and had the most incredible trip. Weather was awesome, saw over 50 mother whales and their calf's and had a great snorkel dive at Molokini and Turtle town where we actually saw turtles and a small shark. Incredible hospitality by the staff and well worth the price. Lunch was great with pulled pork sandwiches or giant hotdogs and the open bar on the way home is a great way to finish the day. I highly suggest taking a fun trip on the Leilani. Smaller boat with less passengers than some of the others. Great boat, great crew! Aloha.