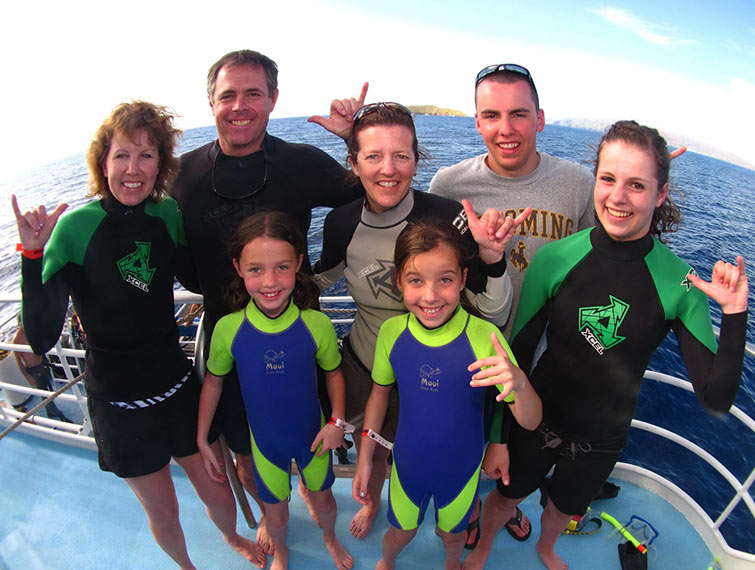 LIFETIME ADVENTURE
Reviews from you
Below are reviews received from our guests. We are proud that we've not received a single bad review, which is a compelling reason to call us first before considering any other boat trip on Maui. We will exceed your expectations.
Reviewed

July 13, 2021
Wonderful and accommodating crew
Crew was fantastic! Anna was so polite and friendly (so was the rest of the crew but i forgot their names, sorry if you're reading this) My mother has a lot of mobility issues walking but can swim fine. The crew was VERY accommodating and helped her both into and out of the water. This alone made the trip for me as i was really worried it would be too hard to help her into and out of the water. So glad she was able to experience everything. The snorkeling was so fun! We didn't see any turtles but that's just the luck of the draw. We did see a lot of fish along the coral though. Food and snacks were available and they made sure everyone was taken care of throughout the entire trip. Highly recommend this charter, for their amazing service and personalities. Thank you! Mahalo
Reviewed

July 19, 2019
Overall, just perfect!
We just got back from our snorkel trip on the Leilani. It was a great experience. We were lucky with the winds being slightly calmer and made it to Molokini. Snorkeling was awesome. Turtle Town was fun too. They served a continental breakfast with fruit and muffins. Lunch was pulled pork and hot dogs with coleslaw and pasta salad, and yes, a tasty cookie. The crew was genuine, entertaining and made sure we were safe in the water. Smaller boat, but not crowded. Overall, just perfect!
Reviewed

January 24, 2020
5 stars!
We went out today with Captain CJ, Nate, and Lindsey and had the most incredible trip. Weather was awesome, saw over 50 mother whales and their calf's and had a great snorkel dive at Molokini and Turtle town where we actually saw turtles and a small shark. Incredible hospitality by the staff and well worth the price. Lunch was great with pulled pork sandwiches or giant hotdogs and the open bar on the way home is a great way to finish the day. I highly suggest taking a fun trip on the Leilani. Smaller boat with less passengers than some of the others. Great boat, great crew! Aloha.
Reviewed

June 25, 2019
This is THE ONE!
Best snorkeling trip on the Leilani!
Corky helped us make our reservations the day before the trip and was so kind and accommodating. I knew I was speaking with a person who truly cared about our time and experience.
Our crew was so amazing from the time we arrived in the harbor until the time we left. The captain took us to Turtle Town first to avoid all the other boats going to Molokini, which was the best idea. The water wasn't crowded with other snorkelers and it just again proved that we were with people who truly cared about our experience. The entire trip was relaxed and fun thanks to our amazing crew.
Lunch was the most delicious pulled pork sandwiches, pineapple cole slaw, pasta salad, and veggies. No cheap sandwiches here. And the open bar was well enjoyed on the way back to the harbor.
If you're going to book a snorkeling tour, this is THE ONE!
Reviewed

May 28, 2019
We saw over 15 whales!
Went with a group of 5 and it was a blast. We saw over 15 whales (probably closer to 20) throughout the tour. The two snorkeling spot we went to were great. The water was very clear and we saw 3 turtles that we got to swim with as well as other fish. The crew (John, Nate, Jesse) were awesome. They were helpful and very knowledgeable. We brought our own snorkel gear so I cannot review that. Food was good. The lunch was better than the breakfast. I would definitely book again.
Reviewed

September 15, 2022
I definitely recommend and would do this trip again!
We had the best time with the crew out in the water yesterday. We got to swim with the turtles and beautiful fish! I definitely recommend and would do this trip again! Great time with family friends and the crew. The crew were so kind and attentive. We had 26 family members on this excursion and we were treated like royalty. Thanks again!
Reviewed

June 9, 2022
I would book another trip aboard the Leilani in a heartbeat!
I would book another trip aboard the Leilani in a heartbeat! Don't expect the newest boat, fanciest lunch, or highest quality snorkeling equipment, but rather sit back and enjoy an incredible snorkeling adventure with a small group of guests and the best crew in Maui! Corky was so accommodating and patient when I called in a panic after our trip with another company was cancelled last minute. Nate, CJ, and Katie were incredibly kind and fun; they went out of their way to ensure everyone in our group (teenagers, adults, seniors) had a great time. Due to weather conditions, we unfortunately didn't see any turtles, but we still saw lots of cool fish, eels, sea urchins, and even a reef shark (don't worry, Nate will protect you)! I'm so glad an unexpected cancellation led us to the Leilani!
Reviewed

September 1, 2022
Thank you for the family memories!!!!!
If I could add stars I WOULD. CJ was amazing and his crew Katie and Jesse were so friendly and attentive. I liked the smaller group which allowed us to talk with Captain CJ as he drove the boat and just enjoy every moment. Loved snorkeling with the fish and saw tons of turtles. Will only book with this group moving forward. Thank you for the family memories!!!!!