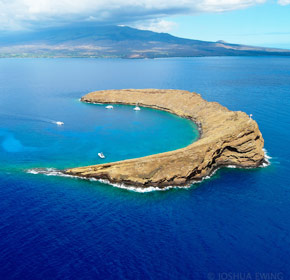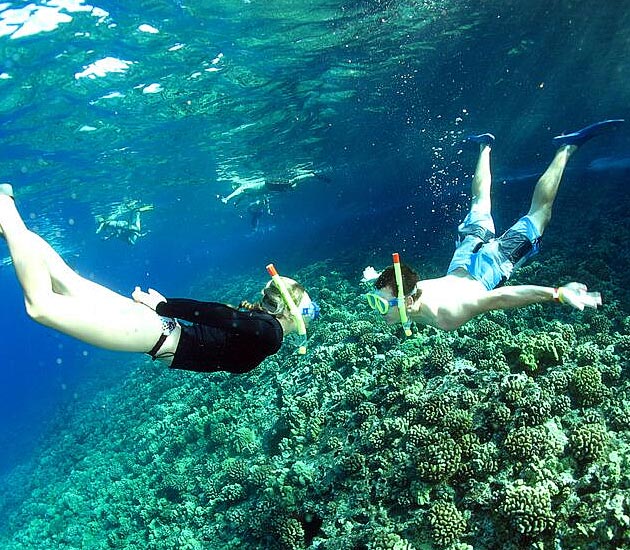 YOUR BEST DAY ON MAUI
The best snorkel
locations on Maui
We offer an unforgettable daily or private tours to Molokini crater and Turtle Town. Our guests appreciate spending over an hour in the water at each of these world-class destinations. Your Captain and crew strive to exceed your expectations so that your time with us is the best day of your vacation on Maui. Mother Ocean cooperates about 90% of all trips. Occasionally, inclement weather prevents access to these sites. For your safety and enjoyment, the Captain may select alternate snorkel destinations with the best overall conditions.
MARINE LIFE
Can we see turtles
at Molokini?
There are no turtles at Molokini, which is why we take you to a second snorkel site aptly named Turtle Town. Here, you will have the opportunity to swim with the amazing Hawaiian green sea turtles and see an entirely different reef system.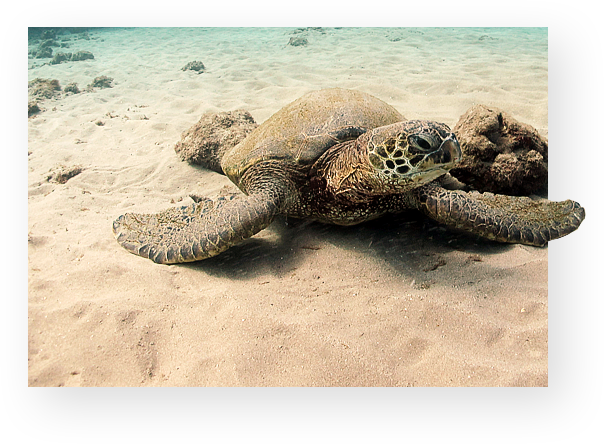 SNUBA diving in Maui is an amazing adventure requiring no prior experience! All that is required is that you are at least 8 years old, of average health and ready for the adventure of a life time.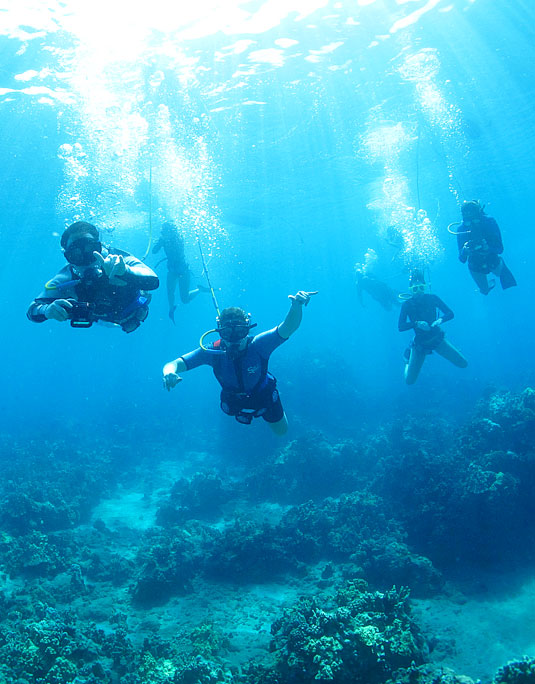 THE BEST OF BOTH WORLDS
What is SNUBA?
Snorkeling in Maui is great, SNUBA diving while on your snorkel tour is even better. SNUBA is a hybrid between snorkeling and scuba diving. It is an opportunity to experience breathing underwater, weightlessness (like floating in outer space, or in this case inner space) in shallow water down to about 15 feet, in the safe care of our expert SNUBA Instructor. With SNUBA, the breathing tank is attached to a raft which floats at the surface. There is a 20-foot hose attached to the tank with a breathing mouthpiece attached to the hose, which you breathe from. You simply relax and breathe, as you swim along underwater with a bird's eye (fish eye, really) view of the coral reef and its many inhabitants.
Maui SNUBA is an exhilarating underwater adventure, and our expert SNUBA instructors are right there with you every step (or kick) of the way to make sure your SNUBA experience is safe. SNUBA diving on Maui is another one of those unique Maui adventures you'll remember for the rest of your life. Maui SNUBA diving is a great value at only $49.
SNUBA vs SNORKELING
SNUBA diving on Maui takes you deeper than snorkeling where you will stay longer. Breathe as you normally would on the surface, with time to take in the amazing marine environment that envelope's you.
Experience the thrill of breathing underwater on our Maui SNUBA adventure and stay down to enjoy the exhilaration. The advantage of SNUBA diving over snorkeling is clear in the image to the left. This lucky SNUBA diver was thrilled to spend more time underwater with the turtles at Turtle Town not having to surface for air.
Requirements
Special skills or extensive training is not required to SNUBA dive. You need to be a basic swimmer and at least eight years of age. SNUBA is a great family activity while on your Maui vacation. We invite you to experience an unforgettable Maui SNUBA adventure! Our SNUBA diving adventure is available to a limited number of guests and is very popular. Please let us know if you are interested in more information, or feel free to reserve your SNUBA online while booking your snorkel adventure.
Restrictions
Guests diagnosed with high blood pressure or prescribed heart medication and those diagnosed with a serious respiratory condition, are not able to participate in SNUBA. This policy we adhere to for your safety and health. If you are unsure, please consult with your doctor before participating in SNUBA.